Our Product
We are an experienced team that is reducing time to signature for general counsel, their sales and procurement teams and service providers.
Our proprietary technology stack consists of Lexible, a Universal Description Language, and Fathom, our AI capability. Lexible is a knowledge tree that poses the questions that Fathom (our AI capability) answers. Together Fathom and Lexible deliver meaning identification, not mere text search and our technology has built the largest legal knowledge tree of its kind.
Your Mission
Owning your own portfolio of global corporate and law firm clients, you'll work strategically with your customers on an ongoing basis to ensure that they are consistently achieving their goals and realising value.

You will grow key client relationships including at General Counsel and law firm partner level, creating trust and driving advocacy through increased usage and engagement
Working in partnership with the Customer Success technical onboarding team, you will project manage post-sales product configuration activity for our new enterprise clients, providing a smooth and effective onboarding experience for new use cases

You will serve as an internal liaison and voice of the customer to bring contextual feedback into ThoughtRiver regarding how customers use our products, customer requests for improvement, and insights into their overall experience

Working closely with the wider Sales team, you will engage with customer prospects at the pre-sales stage to provide solution expertise and to establish a foundation for a successful onboarding experience.
You will proactively conduct regular check-in calls for tactical items and performing strategic business reviews to increase customer retention.
You will maintain a deep understanding of the product in order to speak with customers about the most relevant features/functionality and best practices for their specific business needs
You will work closely with Product and Engineering on identification and tracking of product improvement requests and bugs as well as to provide customer feedback and feature request
Measurements for Success
Product adoption: based on usage per user
Customer retention and identification of new use cases
Customer advocacy: Obtaining customer endorsements and case studies
Net promoter score
What You Need to Succeed
A strong track record of working in a customer success role in a SaaS Enterprise business with a proven ability for driving long-term success of a portfolio of customers. AI SaaS experience is a plus.
Significant project management experience; dealing with large and complex implementations within highly matrixed organizations (Desirable)
Preferably experience working with law firms and/or in-house legal teams in a consultative fashion
Experience using data to deliver meaningful customer outcomes as well as for tracking and improving your own performance
Proven ability to learn new technologies, preferably in the legal-tech space, with the ability to apply relevant learnings to a customer's business industry or vertical
The ability to manage and influence multiple senior stakeholders
Excellent written, presentation and project management skills
Why You Will Love Working Here
Competitive Employees benefits including a 401K program
20 days annual leave
Life Insurance
A global, collaborative, supportive, and dynamic work culture; you'll work with people who demand the best from the US to the UK
In-depth training and one-to-one support as you build your career at ThoughtRiver and map out your professional goal
A regular program of fantastic team-building and social activities to foster a collaborative spirit
Environmentally conscious and serious about climate change; we're committed to completely removing our impact on the environment by October 2021
Our Values
Our people are ON IT. A culture of individual empowerment.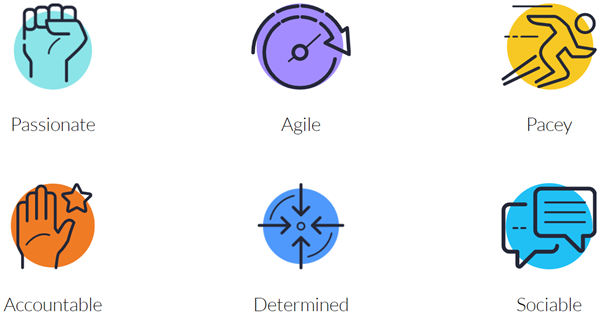 Our Squads
At ThoughtRiver, we work in interdisciplinary squads. These dedicated teams of hardworking specialists take pride in solving problems, getting creative, and making a real difference. Each squad has a specific area to focus on and the necessary tools to deliver. The people who are closest to the problems are solving them for our users.
Read more about life at ThoughtRiver via our blogs: https://www.thoughtriver.com/resources
We are an Equal Opportunities Employer
We commit to creating an inclusive environment that enables everyone to perform at their best, where we recognise the rights of all individuals to mutual respect and where there is an unbiased acceptance of others.
Our policies and practices aim to promote an environment that is free from all forms of unlawful or unfair discrimination and values the diversity of all people. At the heart of our policy, we seek to treat people fairly and with dignity and respect.